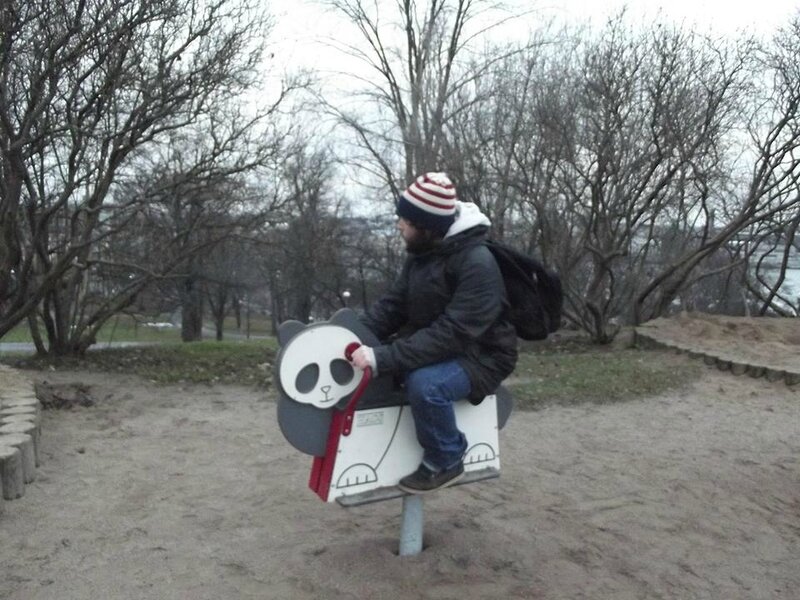 Hello ! This is my new friend ! I met him in Helsinki, after climbing a hill and be lost in some commercial galleries. To go to Finland and later to Sweden (cf last Melanie's post) was really exciting for me and the teenager I was, listening the finnish bands, interested by the scandinavian mythology and dreaming about the lakes, forests, islands or mountains. Ok, I just saw the biggest cities of these countries and saw some little islands on the ferry. But whatever, it was a good beginning.
This a video about my little travel
Sooooo, it was really difficult to find a topic for my new post. My life is boring, and I don't want to impose you the supplice to read it. And also my colleagues have already spoken about a lot of interesting things. I could say that unfortunately I passed my christmas alone because of late siesta who breaks my projects, but don't worry it was an interesting experience not really sad. It was the occasion to discuss with a french friend in the same situation. Oh, and please, this secret will stay between us, okay ? My mother would not like to know that.
I could also speak about the visit of one my friend who travelled from France to Estonia, however it would be really short (travels to Tartu and Tallinn, parties with volunteers and other friends).
I could also speak about Charlie Hebdo and the terrorist attacks in France and the distance between me and the events, the incomprehension, the absurdity, and the sadness to see these drawers, that I follow since maybe 15 years, felling under the bullets because of some humoristic drawings. But it would be too sad.
I think I will finally return on one of my favorite topic : Narva. Not very orginal, ok, but I will try from a new point of view : music.
Maybe I already told it, but many people ask me : "why Narva ! It's a dead city". Hmmm, well, even if sometimes it can be difficult to find something to do, I think it's not totally true.
In my hometown, I'm a engaged participant in the "DIY music scene", as a listener, a spectator and also a music player. The DIY scene represent all these bands who don't want to be in a "commercial way" of the music. Play to play, not for money, not for reputation, not for celebrity. In this way, we can play for free, in all places (the strangest would be the best, I already play for example in bars, in squats, on a little boat or in a abandonned factory. The cost of this kind of concert is almost never more than 5 euros. The money is used for the catering and the gasoline. The idea for the bands is to not search benefit, just not to lose money. Then it's possible to make tour in the world. I've already been driver/support for friends during a tour in Europe, and some friends made tour in Russia, Japan or even USA. Last thing : the DIY scene was in the beginning created by punk-hardcore bands, and today the major party of the bands plays punk-hardcore, hardcore, post-rock, post-hardcore, mathrock (but sometimes pop or jazz) or this kind of music style often politically engaged (anarchists, idealists or anticapitalists). Even if everybody is not engaged in this way, this idea against an economic system in the music is still defended.
Before to go to Narva, maybe in february/march (2014), I had the good fortune to meet someone from this city studying in Paris. And I had the extreme good fortune to share many many things with this person, like music bands. It was a real surprise for me, because I didn't expect that one of my first contact with Narva would be about DIY. She talked to me about this independant scene in Narva, with some bands and places, and gave me the contact of one of them, Daytona White, with who I'm now friend and listener.
Because yes, even if many people think that Narva is a dead city, is boring or something else, to have the possibility to watch one or two concerts per week is really cool. In Narva College, or in Roro. Because it's like this ! And for all the style ! Since my arrival, I stopped to count the number of concerts : jazz, blues, acoustic, post-rock, death metal, pop-rock electro, down-tempo minimal, post-punk etc. Even friends came to play. Please, it's totally crazy ! And all for 5 euros maximum ! Many cities in France, with the same number of habitants or more, don't have as concerts as in Narva. And even if all this bands, I think, don't mind about "DIY etiquette", the way to play in a bar for not a lot of money, with the possibility to discuss after that around a tea or other drink is totally a perfect idea of the music, I think.
This is Narva, under the snow.